The choice of lens material for street lights is a critical decision that significantly impacts performance, durability, and maintenance costs. Traditionally, glass lenses have been the standard choice for outdoor lighting fixtures, but silicone lenses have emerged as a superior alternative. In this comprehensive comparison, we will explore the numerous advantages of silicone street light lenses over their glass counterparts, highlighting why silicone lenses has become the preferred choice for modern street lighting solutions.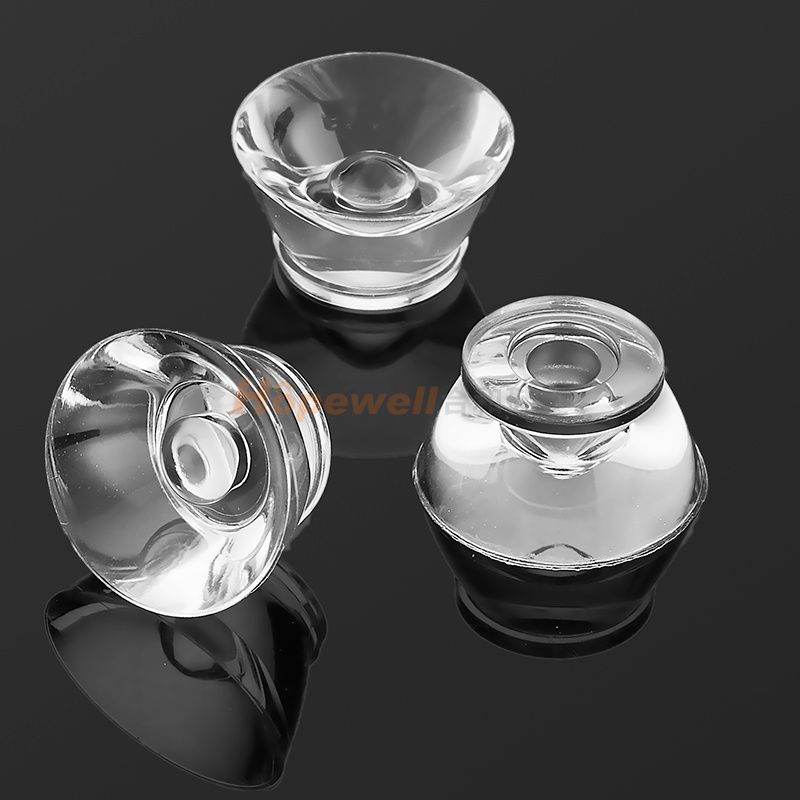 1. Durability And Impact Resistance
Silicone Lenses:
Street light silicone lenses are exceptionally durable and impact-resistant, they can withstand harsh environmental conditions, including extreme temperatures, heavy rain, hail, and even vandalism. The flexibility of silicone lenses make it highly resistant to shattering upon impact, ensuring the longer longevity of the silicone lenses and reducing the need for frequent replacements.
Glass Lenses:
While glass lenses are rigid, but they are susceptible to cracking or shattering upon impact. Extreme weather conditions and vandalism can lead to costly replacements, increasing maintenance expenses and downtime.


2. Lightweight Design
Silicone Lenses:
Street light silicone lenses are significantly lighter than glass lenses, their lightweight design simplifies transportation, installation, and maintenance. This feature reduces the physical strain on workers during installation and minimizes the risk of accidents.
Glass Lenses:
Glass lenses are heavy and require more substantial mounting structures, increasing installation complexity and costs, transportation of glass lenses can also be more challenging due to their weight.


3. Improved Light Distribution
Silicone Lenses:
Flexibility silicone lenses allows intricate and precise designs, which can optimize light distribution. Silicone lenses can be molded with various shapes to achieve specific lighting patterns, ensuring uniform illumination of streets and roads.
Glass Lenses:
Glass lenses have limitations in terms of design flexibility, achieving complex or customized light distribution patterns can be challenging, potentially leading to uneven lighting.


4. Enhanced Thermal Management
Silicone Lenses:
Silicone lenses have lower thermal conductivity compared to glass lense, this property allows silicone lenses to dissipate heat generated by the LED light source more efficiently. Effective thermal management contributes to energy savings, extends the lifespan of LEDs, and reduces the risk of overheating.
Glass Lenses:
Glass lenses has higher thermal conductivity, which can result in less efficient heat dissipation, Inadequate thermal management may lead to reduced LED lifespan and increased maintenance costs.


5. UV Resistance
Silicone Lenses:
Street light silicone lenses can be formulated to resist UV radiation effectively, UV-resistant silicone lenses maintains its optical clarity and physical properties over time, preventing yellowing or degradation.
Glass Lenses:
Glass lenses do not naturally possess UV resistance, prolonged exposure to UV radiation can lead to yellowing or clouding, negatively affecting light transmission and aesthetics.


6. Reduced Maintenance Costs
Silicone Lenses:
Street light silicone lenses have a longer lifespan and are less prone to damage, reducing maintenance and replacement costs. At same time, their durability minimizes downtime and ensures consistent lighting performance.
Glass Lenses:
Frequent replacements of glass lenses due to breakage or wear can result in higher maintenance expenses and increased disruption to lighting service.


Conclusion
Street light silicone lenses have emerged as the superior choice for modern outdoor lighting solutions, their durability, impact resistance, lightweight design, improved light distribution, efficient thermal management, UV resistance, and lower maintenance costs make silicone lenses the preferred option for street lighting projects. As the lighting industry continues to evolve, silicone lenses are at the forefront of innovation, providing enhanced performance and sustainability for urban and rural areas alike.
Hopewell is committed to providing high quality and cost-effective silicone injection molds, plastic injection molds, custom silicone injection products and plastic injection products to customers worldwide, covering industries of medical, consumer electronics, electronic components and household.
If you want to know more information about Silicone lenses, please contact us.