Project Management

When we received the PO for custom molds, our Project Management Process will be as follows:
PO Received, Project Team Assigned.
Mold Design
Organize the mold design, mold making and injection molding teams to review DFM report, to communicate with customers in a timely manner.
Mold Making
Report the mold making process to customers at a weekly basis.
Mold Trial Run
Solve problems of mold and injection molding
Mold Delivery
Inpsect every details according to customer's requirements and inspection creteria, taking photos for molds, to ensure the mold to be 100% qualified before delivery.

Aftersale Service
All mold drawings will be kept for 5 years, if there are any problems, our team will communicate with customers by email, conference call or video meeting. If necessary, our team can go to customers' facility to solve problems.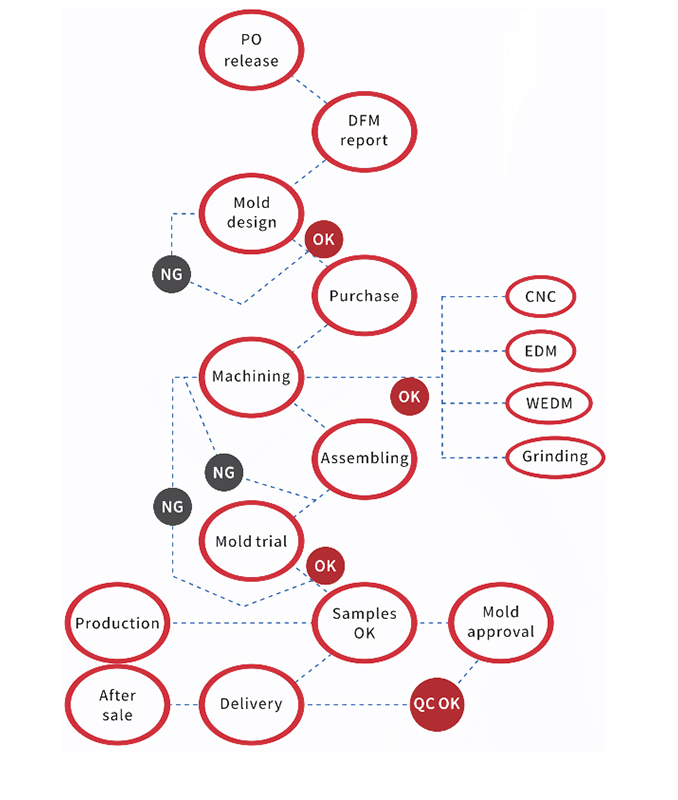 Our Advantage
The core of a mold comes from good design, therefore, our mold design team and R&D team mainly focues on mold structure design, cooling system, exhaust system and ejector mechanism, most of our engineers are with over 15 years of experiences, and familiar with DME, HASCO, MISUMI, Progressive, Meusburger, Cumsa and other standards or specified requirements.
For hot runner, we choose to work with Synventive, Mold Masters, Incoe, Hasco, Yudo, DME, Husky, Thermoplay and so on. Our team knows very well on how to use Moldflow, to simulate the injection molding process, so to improve the product design, mold design and manufacturing processes prior to completing the DFM report.
From mold components evaluation to final mold assembly, every set of mold has been carefully researched and designed, what's more, project engineers, mold designers, injection molding engineers and engineering director are organized to attend severl project evaluation meetings. We'll do our best to extend mold life and reduce mold maintenance/ repair work.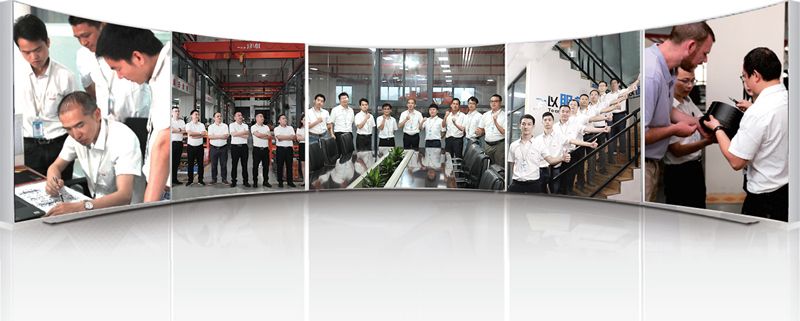 Mold Making Equipment
| | | | |
| --- | --- | --- | --- |
| S.N. | Mold Making Equipment | Origin | Qty. |
| 1 | Ultra Precision Asperic Machine | Japan | 4 |
| 2 | Universal Cylindrical Grinder | Switzerland | 3 |
| 3 | CNC EDM Wire Cutting Machine | Japan | 3 |
| 4 | Precision Form Grinder A | Japan | 1 |
| 5 | Precision Form Grinder B | Japan | 1 |
| 6 | High Precision Surface Grinde | Japan | 1 |
| 7 | High Precision Vertical CNC Machine | Japan | 2 |
| 8 | Vertical CNC Machine | Japan | 1 |
| 9 | Mirror Spark Machine | Japan | 1 |
| 10 | Surface Treatment Equipment | Switzerland | 2 |
| 11 | Polishing Machine | Japan | 3 |
| 12 | Ultra Precision Inner Diameter Processing Machine | Japan | 1 |
| 13 | TATUNG-OKUMA Grinder | Japan | 1 |
| 14 | Okamoto Grinder | Japan | 1 |
Quality Control
Every process will be strictly in accordance with ISO9001 or corresponding quality control system. With advanced inspection equipment, once each process finished, our QC team will 100% inspect the part before moving forward to the next step, so to the accuracy of dimension and shape will be ensured. Also, the measuring equipment will be checked and calibrated on a regular basis.

In fact, we strive for perfection every day, for every design, every set of mold or every single part we work on, our team will inspected one by one. As a result, we have taken some of the most stringent quality measures to control.

What kind of molds can we make?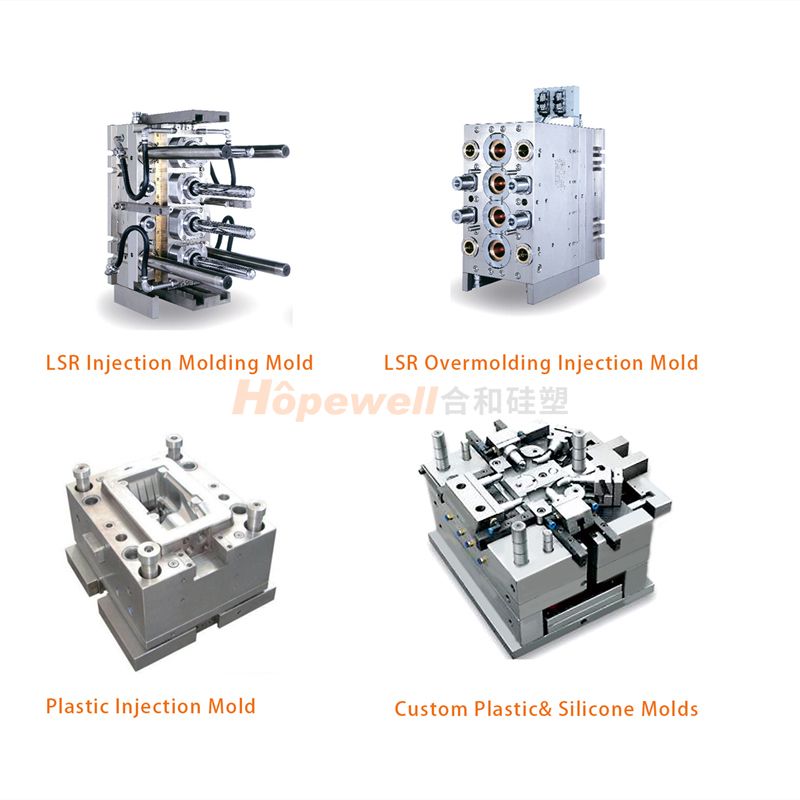 What should offer to us for a custom mold?
To customized silicone or plastic molds, please offer us the 3D and 2D drawings, so we can start the evaluation.