TIR lenses also known as total internal reflection lenses, which are used to collect and process light using the principle of total reflection. Use Tracepro software to trace the light passing through the silicon TIR collimator, resulting in a light energy utilisation of 95.26% and a beam divergence angle of 15° or less.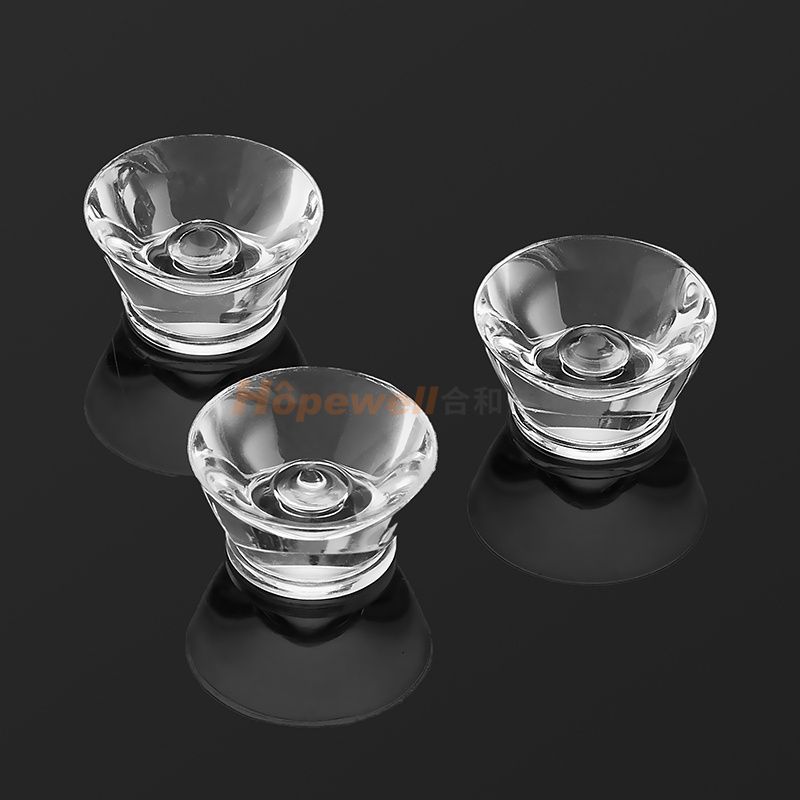 Optical silicone TIR lens has the function of total reflection technology+medium, every light ray of silicon TIR optics can be controlled and used, generally there is no secondary spot, and with a good looking light pattern.
Silicon TIR bubble lens can improve the utilization rate of LED light energy. It's designed to use penetrating focusing in the front, and the conical surface can collect and reflect all side lights. The overlap of these two kinds of lights can achieve perfect light utilization and beautiful spot effect.
TIR reflector can be made of PC, PMMA or silicone, for this silicon TIR reflector we produces, it is made of optical liquid silicone material, which is a two-component ultra high transparent liquid silicone rubber material, with good optical properties and flame retardancy, this style material has stable color and maintains optical clarity under long-term harsh environment.
The silicon TIR optics has below fetures, which are better than TIR lenses made of PC or PMMA materials.
1. High Optical Performance: 94% Light Transmittance
The transmission of silicone TIR optical lens can reach more than 94%, without any coating, which has the advantages of high light energy utilization, low light loss, small light collection area, and good uniformity.
2. Low Refractive Ratio: 1.41
Comparing to PC, PMMA and Glass materials, the low refractive rate optical silicone material makes the lens with less light loss.
3. High Weatherability
- High temperature stability, even above 150°C;
- Resistant to UV light;
- Resistant to micro-cracking;
- Flame resistance equivalent to UL 94 V-1;
- Anti-yellowing: No Change after 3000 hours 85℃/ 85% Humidity Aging testing.
4. Design Flexibility
Since the silicone material has high fluidity and low viscocity, this helps achieve optical silicone lenses with complex, micro-structure and under-cut design. Furthermore, the optical silicone can be overmolded with other materials, makes the optical products design to be lightweight and has more flexibility.
Silicone TIR lenses Application
Silicon TIR led lens are main for high power and long time LED illumination lighting equipment, such as:
Indoor lighting: coal mine lighting, local lighting for exhibition halls, horticultural lighting, sports indoor lighting, entertainment lighting, architectural indoor lighting, Retail lighting, building decoration lighting and so on.
Outdoor lighting: street light, building lighting, bridge lighting, special outdoor applications, architectural outdoor lighting, tunnel and transportation lighting, area and car park lighting, roadway lighting, highway lighting, standard road lighting, motorway lighting, road lamp lighting and others.
Our factory has more than 10 years of experience in liquid injection molding products, with 5 Japanese engineers that focus on mold design for more than 30 years, optics doctors and masters to evaluate the product design, professional engineering team to issue the DFM report, so to ensure the project to be proceed successfully.
Our factory has over 10,000 square meters silicone molding workshop, class 100,000 clean optical production workshop and class 10,000 inspection room for light performance testing, 9 sets Arburg LSR injection molding machines. With advanced imported mold making equipment, such as, TOSHIBA Nanometer super-finishing machines, Makino High precision CNC machines, High precision internal and external grinding machines and so on, our factory has established cooperation with many Fortune 500 enterprises. If you're looking for professional manufacturer of LSR molding silicone lenses, please contact us.