API can provide the material with optical grade transparency, durability, high temperature resistance and design freedom. These optics include first optics, secondary optics, convex lens, thin lens, micro lens and so on. Currently the technology of high power Micro LED、Mini LED are facing new challenge. Keeping the optimized performance are needed for the new generation of LEDs, also the tiny package can be applied for micro structure design. Correspondingly, optical silicone is the right material to provide optical transparency, durability and design freedom.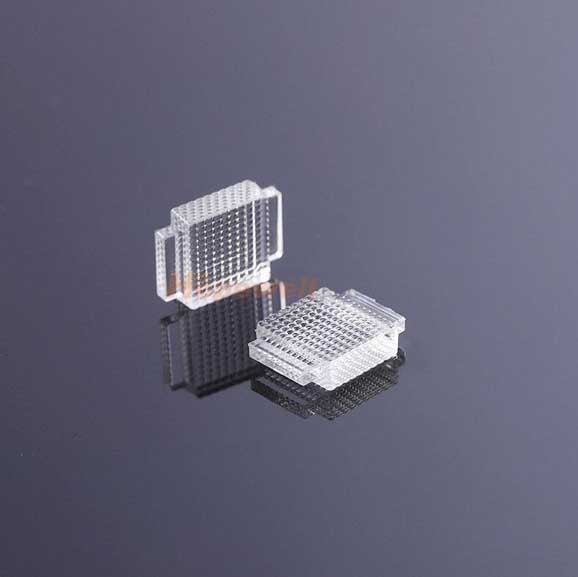 Silicon optical lenses
Usually, silicon is considered as the material of choice for systems operating in the Middle Infrared (MIR) region, from 3 to 5 µm. But in fact, the material may be used in the much broader operating range - from 1.2µm to 7µm or even higher, typical applications include NIR imaging or IR spectroscopy. Silicon's low density (2.329 g/cm3) is ideal for use in weight-sensitive applications. Silicon features a Knoop hardness of 1150, making Silicon Optical Components harder, less brittle alternatives to comparable Germanium Optical Components.
Silicon optical lenses are ideal for collimation or focusing applications that utilize monochromatic light. These lenses are available in a range of sizes or focal lengths for a wide variety of application needs. Silicon lens kits are also available. Silicon optical filters, which are integrated into IR applications such as FTIR spectroscopy, are used to transmit or block a specific range of IR wavelengths. Silicon windows are available uncoated or with a 3 - 5μm antireflection coating.

We can supply three grades of silicon optics: Optical Czochralski Silicon (OCz-Si), Float Zone Silicon (FZ-Si), and High Resistivity Float Zone Silicon (HRFZ-Si). The choice of these grades depends on the wavelength range, element thickness, and specific application. We use crystals of appropriate grade (i.e. production technology, conductivity type, and resistance) to guarantee the best transmittance. Also, note that the transmittance does not depend on the crystal orientation.
If you have any doubts or need assistance in silicon optical lenses, please contact us for more guidance.