1. LSR overmolding injection silicone optics manufacturer for LED lighting solutions OEM, material is Optical Liquid Silicone, hardness is 5/30/60/70/80/90 Shore A, mold type is LSR Injection Molding.

2. Silicone optics made of super crystal and flame resistant optical liquid silicone raw materials.
3. Overmolding silicone optics processed by ARBURG Liquid silicone rubber injection molding in Class 100,000 optical clean workshop.
4. Comparing to PC or PMMA, the transmittance and environmental resistance of the LED lighting silicone optics are better.
5. Under harsh conditions, the color of silicone optics is very stable even under temperature over 150℃.
6. With excellent processing properties, especially in LED lighting and optics, the optical silicone lens can achieve various complex and lightweight designs.
7. Anti-yellowing effect is perfect even after 3000 hours 85℃/ 85% Aging testing.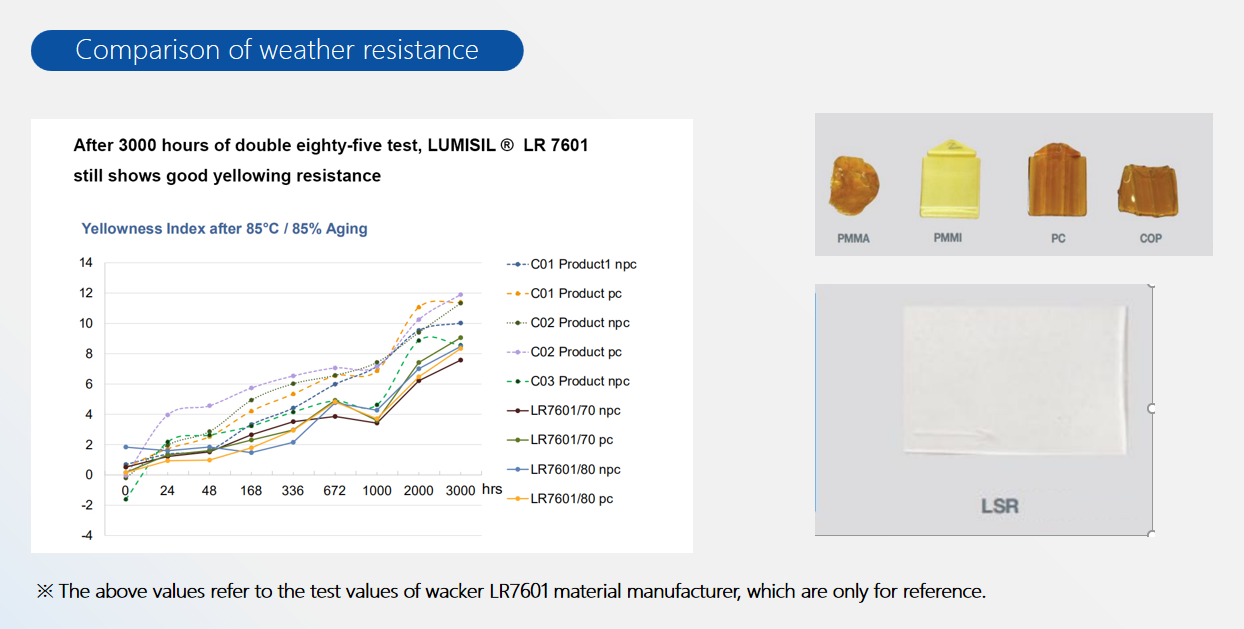 8. With a professional team, both the mold making team and LSR injection molding team, to assess design feasibility and trial production stability, also the successful experience to ensure your project to be launched successfully.
9. LED lighting silicone optics light transmittance over 94%.for silicone optics,the high temperature resistance over 150℃,surface finish can achieve to a1.
10. Overmolding silicone optics anti-yellowing: No Change after 3000 hours 85℃/ 85% Humidity Aging testing.
11. LED lighting silicone optics adapt to complex special shape and partial under-cut.
12. We have 9 Sets ARBURG Horizontal Liquid Injection Molding Machines,3 Sets Vertical Liquid Injection Molding Machines,Class 100,000 Clean Production Workshop,Class 10,000 Full Inspection Room,1 Set EVERFINE Light Distribution Performance Test System for silicone optics.
To minimize the purchasing risk, we have established cooperation with at least 2 suppliers for raw materials.

| | | |
| --- | --- | --- |
| Optical Silicone Material Supplier | Material Series | Hardness(Shore A) |
| DOW CORNING | DOWSIL™ MS | 74/84 |
| MOMENTIVE | LSR7180 | 5/30/60/70/80/90 |
| WACKER | LUMISIL® | 50/60/70/78 |
| DONESON | DSA-7000 | 30/40/50/60/70/80 |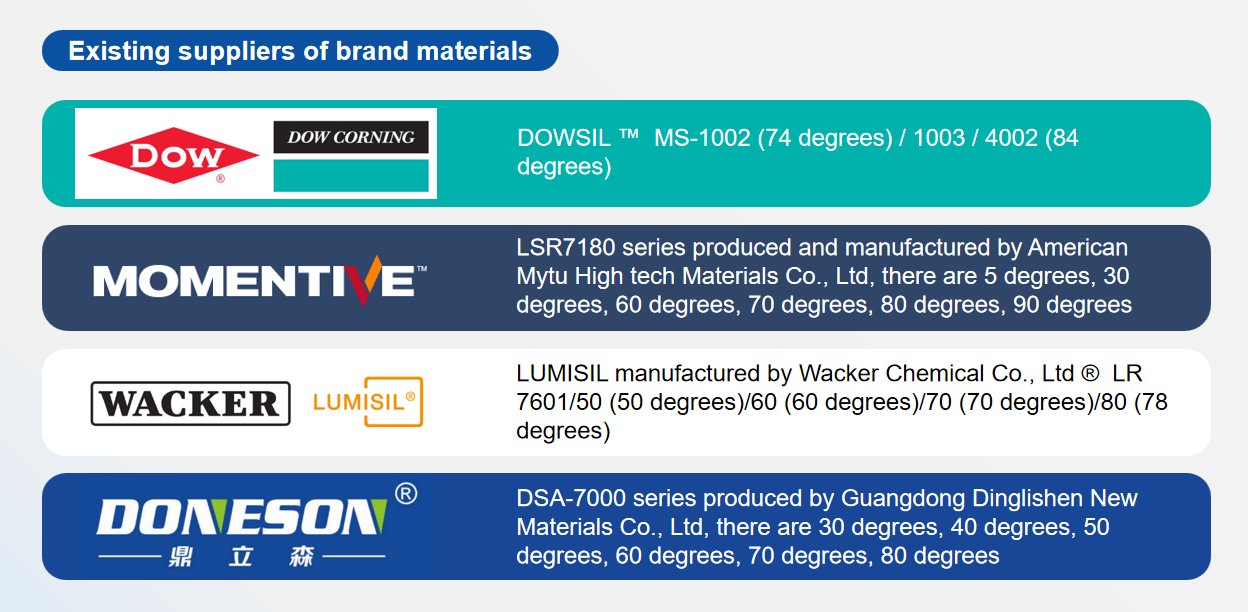 About Hopewell

Hopewell has over 10 years in producing custom overmolding silicone optics,we have many certificates for silicone optical lenses, such as: ISO9001 certificate,ISO14001 certificate, ISO13485 certificate, Clean-room production workshop, IAFT Certificate, SGS Certification, Sony GP Certification, Optical Lens Intellectual Property, Clean-room Certification, Raw material LFGB certification, Material Safety Certification, LIM-9150 Liquid Silicone LFGB Certification. Welcome to contact us to customize LSR Injection Molding Lenses for LED lighting.